The color just might be the most transformative element when it comes to interior design. Which is great news because it's also one of the easiest and most affordable to implement. And, if you're anything like us, you might find yourself longing for a change; a fresh coat of paint in an unexpected hue could be just the antidote to life's monotony.
While there aren't any definitive rules when it comes to selecting a color palette (at Hunker, we always advocate choosing a shade that speaks to you) there are some general guidelines to keep in mind that'll help ensure every room in your house has staying power and elicits the vibe you're looking for.
First things first, what area are you painting? The room you're selecting the color for is one of the biggest factors in determining your palette. How so? While you might not realize it, color has a big impact on our emotions. Warm colors — reds, yellows, and oranges — are lively and can impart a range of feelings from anger to comfort depending on the tone, while cool colors — such as blues, greens, and purples — have a more calming effect. Of course, a color's tone and saturation level make a huge difference, too.
Read on for all of the color ideas and inspiration you could ever need — and more.
Color Ideas for Different Rooms
Bedrooms
Bedrooms are arguably the most sacred spot in a home. After all, at the end of a long day, they're where we retreat for solace and to recharge. If you're looking to turn your sleeping quarters into a relaxing refuge, steer clear of a bold, vibrant palette. Traditionally, people embrace calming hues found in nature such as greens, blues, and white, which help settle the nervous system and lull you to sleep. On the other hand, dark-hued walls — like grays, inky blues, or blacks — make a bedroom feel moody, cocoon-like, and cozy. But we can make a strong case for considering jewel tones — like reds, yellows, and sapphire blues — to infuse personality and energy into the boudoir.
Bathrooms
Color ideas for a bathroom are often dictated by the purpose of the space. For example, a primary bath that's used by multiple people or that serves as ground zero for a hectic morning routine will have different color requirements than a powder room reserved for guests. Anyone who's ever tried putting makeup on in the dark knows that when it comes to bathrooms, the importance of light can't be overstated. You'll never tire of a bright white or light gray space that reflects light beautifully and makes grooming a breeze. However, a bit of color can enliven those sleepy mornings and make any routine feel festive. With an out of the way, enclosed location, powder rooms are the ideal spot for pushing color boundaries that might typically be outside of your comfort zone.
Kitchens
Kitchens are one of the most versatile rooms in the house when it comes to color ideas. Gone are the days when a white cook space was de rigueur; now neutrals such as gray, greige, and cream are sophisticated alternatives with a unique spin. If you prefer to keep up with the color trends, or you just want to personalize your space with more vivid hues, consider yellow, red, orange, black, blue, pink, or green.
Dining Rooms
Nowadays, dining rooms have many uses that go beyond just eating so it's important to make that space feel welcome and inviting, yet full of personality. Try to imagine the perfect surroundings for leisurely meals, friendly conversations, casual get-togethers, and even a quiet workspace at times. What color idea speaks to you? Do you prefer dramatic black or gray walls, a monochrome beige or white, or something a little more colorful like blue, green, or pink? Here's a little extra inspo to help you decide.
Living Rooms
Living rooms are multitasking spaces that often pull double-duty, functioning as a central hangout, a site for Netflix binge-watching, and even a casual place to dine. It can be hard to strike the elusive balance of laidback and refined that many of us crave. Living room color ideas run the gamut from understated grays and greige to verdant greens and cheery yellow.
Get the look: Rugs, Floor Pillows, Throw Pillows, Rectangular Pillows, Side Tables, Coffee Tables, Blackout Curtains, Throw Blankets, Coffee Mugs, Coasters, Serving Trays, Wall Hangings.
Labor Day Sale: 30% Off Everything
Blue Color Ideas
Blue is a workhorse color idea that shines in just about any room with any design style. With its reference to water, it's ideal paired with coastal decor, yet looks fresh and modern in contemporary spaces as well. It's a popular choice for bathrooms, bedrooms, and even kitchens thanks to its soothing properties and the fact that it plays nicely with a wide range of other colors from yellow to white to purple.
Red Color Ideas
If you're looking to make a real statement or to inject energy into your home, it's pretty hard to beat red room ideas. Not for the faint of heart, it takes confidence to pull off the bold hue, but the results are worth it. We're partial to using it sparingly — on an accent wall or in the form of accessories like the rug and pouf in this sitting room — but also love relegating it to jewel box spaces such as powder rooms, too. And surprisingly, it pairs with more colors than you might think.
Yellow Color Ideas
The color yellow is steeped in history. In fact, ochre is one of the oldest pigments in existence. The hue has gone in and out of vogue, however, yellow room ideas have had a real resurgence lately. It's a popular earth tone that adds warmth and subtle contrast to monochrome spaces and is used as a staple in desert decor. We find it a refreshing stand-in for neutrals in the kitchen. And bonus; it's impossible not to feel happy when surrounded by this sunny hue.
Floor-to-ceiling canary yellow walls infuse this petite contemporary bathroom captured by Nicole Mason with an allover cheery vibe and a major dose of personality, plus we dig how the sink, toilet, and floor become focal points as the lone white components. Despite its limited sources of natural and artificial light, this WC manages to maintain its brightness thanks to the golden walls.
White Color Ideas
For purists, white color ideas are a home run for any room in the house. Whether you're looking to create a bright Scandi kitchen or a bohemian living room, it doesn't get more timeless or versatile than this hue. While some might view the neutral as predictable (or even boring) we stand by it for the expansiveness and crispness it brings to any space. But make sure you choose wisely: The color white is available with an array of undertones that can give off feelings of coldness or warmth depending on the shade you select.
Green Color Ideas
Green is the color of renewal, harmony, and nature. Because green contains blue (remember mixing blue and yellow in school to make green?) they share the same versatility and calming properties, depending on the shade. As far we're concerned, there really isn't a room idea that wouldn't benefit from a dose of the hue — it adds approachability to kitchens, freshness to bathrooms, and sophistication to bedrooms. It's also a youthful alternative for gender-neutral kids' rooms.
Black Color Ideas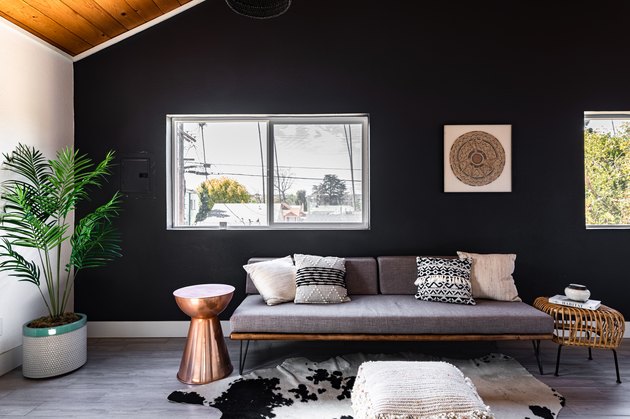 It might take some convincing to go to the dark side, but we're confident that you won't regret taking the plunge. Black has long been a popular choice for trim and accents, but people shied away from blanketing their walls with it for fear it would make spaces appear smaller. Contrary to popular belief, by absorbing light, the walls in dark rooms are less clearly defined, giving the illusion of more space. Temper the masculine look of black room ideas with high-contrast furniture and feminine accessories, or opt for a monochrome look by choosing tonal pieces.
Pink Color Ideas
While pink was once relegated to nurseries and the rooms of young children, it really went mainstream a few years ago when millennial pink burst onto the scene. The hue runs the gamut from barely-there, when it functions surprisingly like a neutral, to fuchsia. A blush pink accent wall is a whimsical addition to this midcentury-inspired living room.
Gray Color Ideas
If you love the neutrality of white, but long for something with a bit more weight, gray room ideas could be the answer to your color dreams. Similar to white, gray is a highly versatile shade that offers flexibility and compatibility. It's also chic and timeless.
Color Theory
There's a lot that goes on behind the scenes when designers mix and match colors for specific spaces, and most of it starts with the color wheel and color theory. The color wheel is a visual representation of which colors blend well together and was invented in 1666 by none other than Isaac Newton who mapped the color spectrum into a circle. On opposite ends of the color wheel, you find complementary colors. When used together these colors result in bright, high-impact, high-contrast spaces. Think: red and blue, pink and green, and yellow and purple.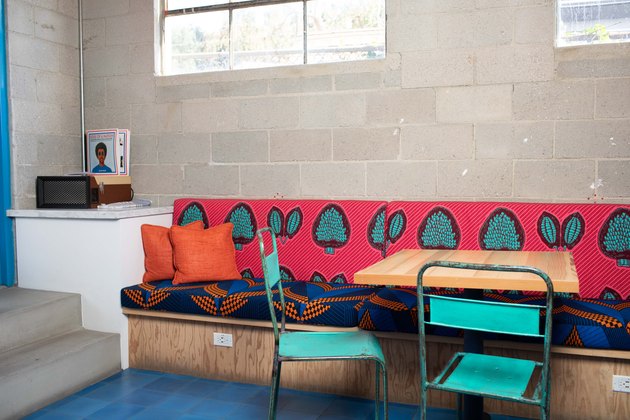 Secondary colors are those that are created when primary colors are mixed together. These are pretty familiar to most of us thanks to elementary school art class — yellow and red make orange, yellow and blue make green, and blue and red make purple. We can break this down even further with tertiary colors which are created by, you guessed it, mixing equal parts of one primary color (red, yellow, blue) and one secondary color (see above). There are six tertiary colors: yellow-orange, red-orange, red-violet, blue-violet, blue-green, and yellow-green.
If you're overwhelmed by the prospect of combining hues in your home, grab that color wheel (even the pros use it regularly). A manageable place to start is by choosing analogous colors; these refer to colors that sit next to each other on the color wheel — yellow, yellow-orange, and orange, for example.
Exterior Color Ideas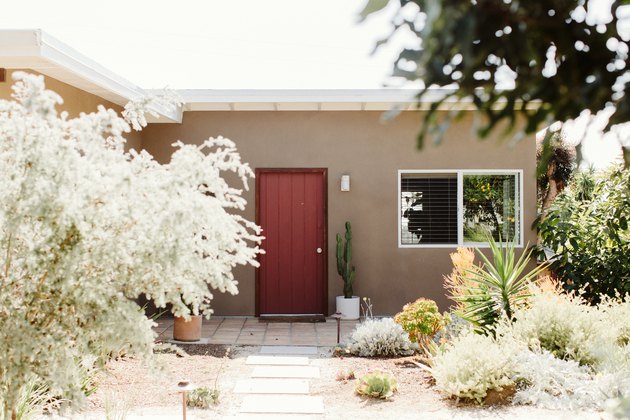 First impressions count, which is why you'll want to spend time mulling over exterior house color ideas. Paint has a real impact on curb appeal, highlighting architectural features with contrasting hues, or imbuing a peaceful, cohesive look with a muted palette such as white or gray. Certain styles — craftsman, farmhouse, midcentury — are the perfect canvas for unconventional color pairings.
The world's your oyster when it comes to front door color ideas. Whether you're looking to enhance your threshold with a dramatic shade of black, something a bit more traditional, or are seeking ideas for a midcentury modern entrance, there is plenty of inspo out there to help you on your quest to amp up your curb appeal.
SunShades, Outdoor Floor Cushions, Sling Chairs, Folding Stools, Picnic Blankets, Welcome Mats, Can Coolers, Yoga Mat, Beach Towels.
Labor Day Sale: 30% Off Everything
The post Color Ideas and Inspiration: A Comprehensive Guide appeared first on ARTERESTING Bazaar.
Source: https://bit.ly/2R0QhdJ