Supersize your space with our top tips to make the smallest of rooms feel perfectly proportioned and packed with clever design tricks.
With some tricks of the trade, there are in fact tons of ways to help turn that awkward layout into something stylish and sophisticated, so don't give up just yet! Here's how to design and decorate a compact space with our best small living room ideas.
Though small living rooms can present challenges, there are several benefits to compact living. A well-designed scheme can feel just as comfortable as a larger space, with all the coziness and comfort associated with family living. One of the main advantages is the convenient accessibility of everything that's needed. Easy maintenance is another bonus. In a small living space, zoning is key.
HOW CAN I ARRANGE MY SMALL LIVING ROOM?
If you have or have ever had a narrow room at home, then you'll be more than aware of the tricky task of making it look wider than it actually is, while desperately trying to make every corner look cozy. You've probably spent hours rearranging furniture in a frenzied attempt to make your rectangular space look more square, but in the back of your mind, you know that unless you knock down the walls and rebuild the room from scratch, there's just nothing you can do.
'Don't place all your furniture too close to the walls. 'To make the room feel more spacious, move your sofa away from the wall, and put a console or a shelf behind it and bring the sofa in,' says interior designer, Kelly Hoppen.
Look for a table with simple or delicate lines. The table should seem to 'disappear,' so it gives your room the illusion of more space in a small living room. And steer clear of ornate furnishings that will overpower the space.
Get the look: Rugs, Floor Pillows, Throw Pillows, Rectangular Pillows, Side Tables, Coffee Tables, Blackout Curtains, Throw Blankets, Coffee Mugs, Coasters, Serving Trays, Wall Hangings.
HOW DO YOU MAKE A SMALL LIVING ROOM LOOK BIGGER?
Homes that are short on space can still be big on style. A carefully designed living room that incorporates plenty of concealed storage and furniture that is tailored to space can achieve a sense of comfort and convenience that belies modest square footage. The key lies in a little forward planning.
Scale the furniture to fit the size of the room and don't block walking pathways – oversized sofas or too much furniture will make the living room look smaller, while furniture and accessories blocking the view into a room will make the space look cramped – if you can see the floor, the room will look larger. A great tip is to choose a sofa and chairs with open arms and exposed legs, and a glass coffee table, both will keep the appearance of much more open and free space, allowing light to filter under and around the furniture far easier.
Get the look: Rugs, Floor Pillows, Throw Pillows, Rectangular Pillows, Side Tables, Coffee Tables, Blackout Curtains, Throw Blankets, Coffee Mugs, Coasters, Serving Trays, Wall Hangings.
HOW DO YOU DECORATE WALLS IN A SMALL LIVING ROOM?
Make the most of reflective surfaces in a small living room. 'Consider finishing the walls in polished plaster, a material that reflects light and increases the visual perception of space. Any other reflective decorative surfaces, such as patinated mirrors, silver leaf, or lacquer will make space seem bigger too,' explains Irina Townsend, Keir Townsend.
For more small ideas, see: 12 Inspiring Boho Living Room Ideas That Are Full of Design Inspo
SMALL LIVING ROOM IDEAS
Make the most of a small living room by planning a hard-working layout.
1. CUT THE CLUTTER
If there's one thing that's going to create the illusion of more space, it's decluttering – it can actually make a room feel wider in seconds. Make sure you keep your room tidy and organized by removing toys, plants, knickknacks, and other unnecessary items, and your space will instantly feel bigger and more pleasant to be in. With accessories and essentials neatly arranged and out of sight, space will soon feel orderly and open – a room that's crammed full of 'belongings' takes up space, making it feel disorderly, busy, and small. Try and keep the floor as clear as possible, too, as it's one of the easiest ways to maintain a sense of spaciousness, so remove any oversized rugs.
End of Summer Sale: 30% Off Outdoor, Lifestyle, Home Decor & Posters
2. LIGHT UP A SMALL LIVING ROOM
Light helps to brighten up a room instantly, so first and foremost allow any natural light to stream indoors by taking down heavy, dark window coverings. Try sheer window treatments or install white wooden blinds or shutters to let the natural light flow into your room during the day, while simultaneously providing nighttime privacy. Plus, wide horizontal slats help to magnify the illusion of a wider room. Dark corners can make a room appear small and cramped so position a floor or table lamp in a bare corner to visually expand the area, while recessed ceiling lights can illuminate an entire room without taking up much space.
Get the look: Rugs, Floor Pillows, Throw Pillows, Rectangular Pillows, Side Tables, Coffee Tables, Blackout Curtains, Throw Blankets, Coffee Mugs, Coasters, Serving Trays, Wall Hangings.
3. BE FUSSY WITH FURNITURE
Furniture can be a cumbersome business, especially in narrow rooms so it pays to arrange and buy items correctly. One great way to make the most of a smaller space is by using multi-function furniture, like a chest that can be used as a coffee table, nest of tables, and folding chairs that can be tucked away when you don't need them. Another important pointer is to place large pieces of furniture against walls so the open space in the middle is not broken up.
4. USE MIRRORS TO EXPAND A COMPACT SPACE
Not surprisingly, mirrors can make a room look a lot larger. Hang a mirror on a wall opposite a window or very near one to reflect the outdoors, broadening the feel of your room. You can also try using a focal point and angle your mirrors towards it, which will give the illusion of depth.
Mirrors reflect both natural and artificial light to make a room brighter during the day and night and they bounce light deep into the room, making it appear larger. Mirrors on the walls and glass tabletops will make it seem like there's a more open flow. You can also use mirrored cabinet doors to make spaces feel large and uncluttered.
5. GET CREATIVE WITH PAINT
You can visually widen a rectangular-shaped room by painting the two end walls a darker color than the other two walls. The gradation of shade and color of paint on opposing walls can either lengthen distance by using a lighter shade or shorten a distance with a darker shade.
Light colours such as creamy white or light grey help to brighten a room, making it appear larger and wider. Satin paint finishes tend to reflect more light. You can also paint horizontal stripes on a wall to make a room feel wider. Use two alternating colours to paint each stripe about 12 inches wide.
See: 31 Ideas to Decor your Bedroom in 2020 Winters you can Copy
6. ZONE A LARGER ROOM
Long thin rooms rarely feel homely, but there are tricks you can use to zone the space to make it feel far cosier. A rug can visually draw together the furniture in a space, giving a room focus and adding comfort. While a focal point that contrasts with the rest of the scheme can be visually interesting, disguising the awkward layout, something like quirky piece of art, coffee table or striking lampshade.
Get the look: Mini Art Prints, Framed Mini Art Prints, Art Prints, Framed Prints, Canvas Prints, Metal Prints, Wood Wall, Art Posters, Wall Hangings, Wall Tapestries.
7. HANG ART IN A SMALL SPACE
Walls that are covered with pictures and other wall hangings tend to make a room feel closed in, narrow and busy, so simply hang one or two large pieces of artwork on your walls to make the room feel wider and more spacious. Avoid hanging pictures high on the longer wall as they will just highlight the imbalance in the proportions, instead choose art that can sit wide but low over the sofa, for example, to bring the eye-level down and help make the room seem wider.
Get the look: Mini Art Prints, Framed Mini Art Prints, Art Prints, Framed Prints, Canvas Prints, Metal Prints, Wood Wall, Art Posters, Wall Hangings, Wall Tapestries.
8. SCALE IT UP
Select furniture pieces that are in proportion to the size of your room – oversized cabinets, sofas and chairs can make a small room feel narrow. Furniture that is the same colour as your walls tends to blend into the wall, making it look wider and make sure you arrange your furniture at an angle to create a sense of depth to the room, otherwise if you place all furniture against the walls you might end up with a narrow 'bowling alley' look.
Get the look: Rugs, Floor Pillows, Throw Pillows, Rectangular Pillows, Side Tables, Coffee Tables, Blackout Curtains, Throw Blankets, Coffee Mugs, Coasters, Serving Trays, Wall Hangings.
9. CREATE A FOCAL POINT IN A SMALL LIVING ROOM
When decorating a small room, create a focal point – one area or feature that will draw the eye, so there's less emphasis on the room's layout. In the living room, the focal point will most likely be the coffee table, so make sure that the focal point is the star of the room.
10. UNITE TWO ROOMS
If you've got a long narrow room that's divided in two – like a living room one end and a dining room the other – it might be worth picking a favorite color and using it as a key tone to coordinate the one space. For example, linking navy blue walls in the dining room end with the same wall color in the living room for a space that feels united and cozy.
11. DECORATE WITH A LIGHT COLOUR PALETTE
It's always effective to use a palette of light colors but in different materials and textures. A common misperception is that the less furniture and features you have in the space, the bigger it will look. But in fact, multiple zones and features create a perception of different spaces within one room. It's all about the right furniture size, the right swatch, and the right lighting. Try to stick to a neutral scheme in smaller spaces, introducing splashes of color with accessories
Get the Look: Coffee Mugs, Travel Mugs, Coasters, Serving Trays, Cutting Boards, Side Tables, Credenzas, Counter Stools, Bar Stools, Benches, Coffee Tables, Rugs.
12. PAINT THE FIFTH WALL
The fifth wall is often an afterthought when it comes to redecorating, but done right, it can make a real difference to a small room. As long as your ceiling is painted in a paler color than your walls, no matter what the color, your ceilings will feel higher, helping a narrow room feel more spacious.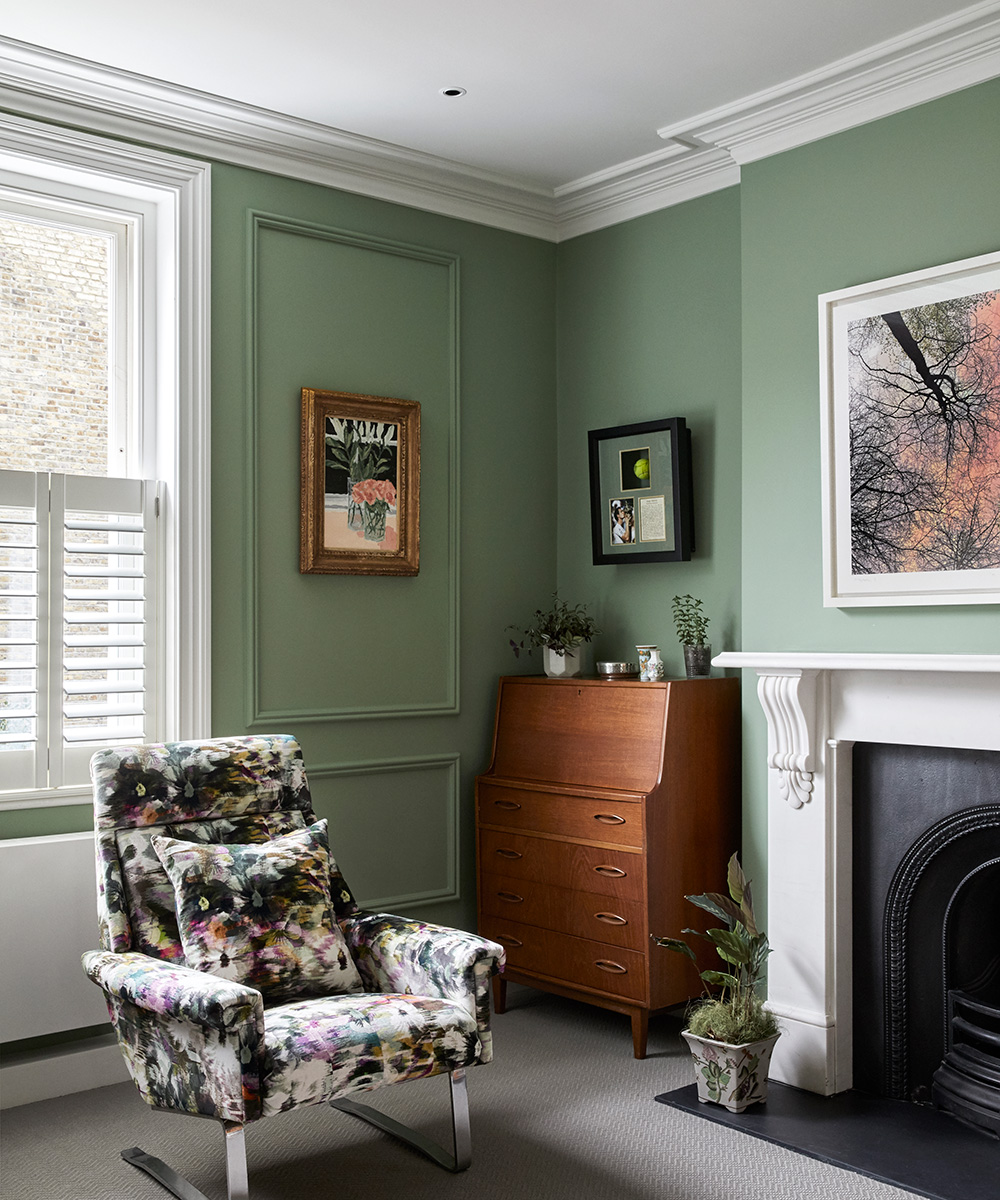 13. KEEP A SMALL LIVING ROOM ORGANISED
The key to compact living is to be exceptionally well organized. In my experience, small spaces can actually transform personal habits for the better, as they require careful editing and storage. 'Open up space as much as possible to allow for comfortable circulation. Every centimeter of a small studio has to be cleverly utilized, so that it doesn't look cluttered, yet provides a functional layout with optimized storage,' says Irina Townsend, Keir Townsend.
See: How to decorate your home, according to your zodiac sign
14. MAKE IT MONOCHROME
A monochromatic color scheme, using different tones of the same color, will help to make the furniture and other features recede and appear to take up less space. You can soften the palette by adding a warm grey blue rather than a harsh black or white.
15. PLAY WITH SCALE IN A NARROW SCHEME
Choose one large-scale piece – a huge cabinet, an oversized lampshade, or a wall to ceiling mirror. By choosing carefully these large accessories will draw attention away from the lack of space and focus the eye onto other things.
The post Small living room ideas – 15 ways to plan and decorate a smaller space appeared first on ARTERESTING Bazaar.
Source: https://bit.ly/3gAc06A