There's nothing better than sharing decorating ideas, and you all have great ones. I've been keeping a running list of some of the living room design tips commenters have posted on recent stories. So I thought it would be fun to round a handful up, just in case you missed them. This is by no means exhaustive or hierarchical, but design definitely works well as a dialogue, so thank you for always adding to the conversation and being willing to connect with others. If you're looking to make a few tweaks in your living room, consider starting with your own smart ideas!
Mirror placement is super important
"Adding a mirror works sometimes. However, it's imperative to take notice of everything the mirror will reflect," notes Mela99. "If not carefully placed, a mirror can double clutter, create a selfie 'photo' every time you sit in a particular place or cause the side of an ugly neighboring building to appear as a 'photo' in your room."
It's true, the best thing you can do is take your time "trying" out different positions on a wall before you actually mount your mirror. That way, you can get a sense of what it will actually be reflecting when you hang it in a given spot. In general, placing a reflective piece opposite of a window will help bounce light around your space, so use that as a starting place. And if you want the mirror to truly be functional, don't hang it too high or low for it to serve its purpose.
Be strategic with window treatments and furnishings
"Hanging curtains high and extending [them] past side trim makes windows seem larger," says amisdottir. "Smaller pieces also help fool the eye into thinking ceilings are taller, especially where pics are hung a few inches below museum height."
Try separating an open space into zones
If you have an open concept living area and want more delineation between your spaces, user Mooninfog suggests folding screens. These functional pieces of furniture don't get nearly enough love. Folding screens are relatively easy to store when not in use and a great way to section off a work area from the rest of your living room. Plus, they can add a pop of color, texture, or pattern to a room if you find one that has a little bit of decorative flair. You can also use a bookshelf in a similar way, as shown in the room above.
Use a trunk as a coffee tables
With the popularity of marble, wooden, and acrylic coffee tables, it's sometimes easy to forget that there are other options out there. "I always use some kind of trunk," comments Marialuci. "They're more interesting looking and have storage."
Add color on the cheap with washi tape
In response to the idea of painting the edges of a living room bookshelf, user AnnyeD suggests washi tape instead. "Sounds a lot easier and less commitment-y than painting or gluing ribbon," says AnnyeD. You could also use washi tape to create a patterned accent wall, casually hang photos or art, or to create a frame around a special art print or poster.
Give your art and photos a mini makeover
Instead of investing in all new pieces of art or picture frames, user EclecticHiatus recommends overhauling what you already have. "Change the mats in framed art/photos," says EclecticHiatus. "Paint, draw, [and] add embellishments. Or switch up your pictures."
The second you put a piece into a new spot or context, you'll be able to see it with fresh eyes and fall in love with it all over again.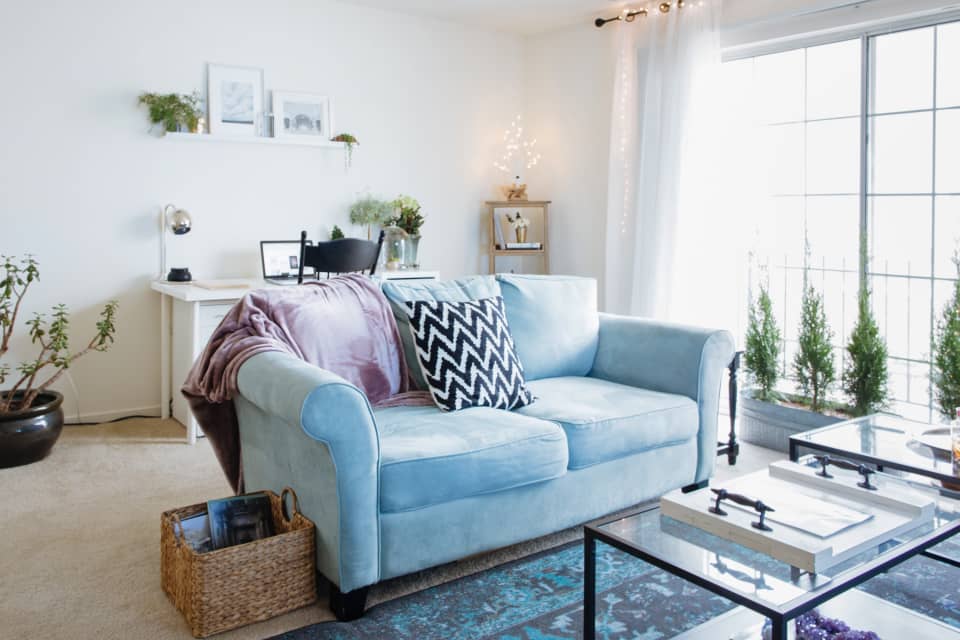 Sometimes smaller is better
Here's another gem from amisdottir on laying out your living room so it feels more spacious, especially when you're working with a small space: "Purchase flexible furniture in proportion to the room. Loveseats above work so much better for zoning and circulation than those L-shaped elephants, and loveseats are easier to move. "
Ain't that the truth! As someone with a smaller sofa, I have serious sectional envy. But if you are trying to make your space seem bigger, sometimes it's better to fake the look of a sectional with a sofa and matching ottoman. To amisdottir's point, you can move smaller pieces around a space more easily and rearrange them for a fresh look in more ways than one, which isn't always the case with larger furnishings. Just try not to pack too many good small things into a small space!